Hector Gustavo Moncayo Merino
(Son of Hector Moncayo)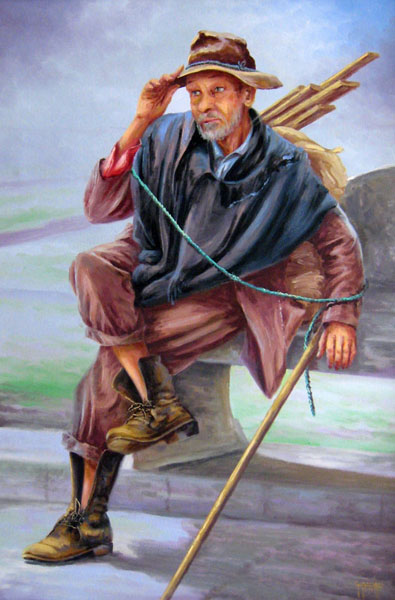 Click on Any of the Images to Enter the Gallery

Born December 7th, 1943
Quito, Ecuador


From early childhood, Gustavo Moncayo appreciated painting. Watching his
parents painting was so natural in his home, it was only expected that he and
his siblings were born to, or would readily acquire artistic abilities in this
environment, and also that they would have a talent for sculpturing,
carving and other manual skills including carpentry, plumbing, and electrical work.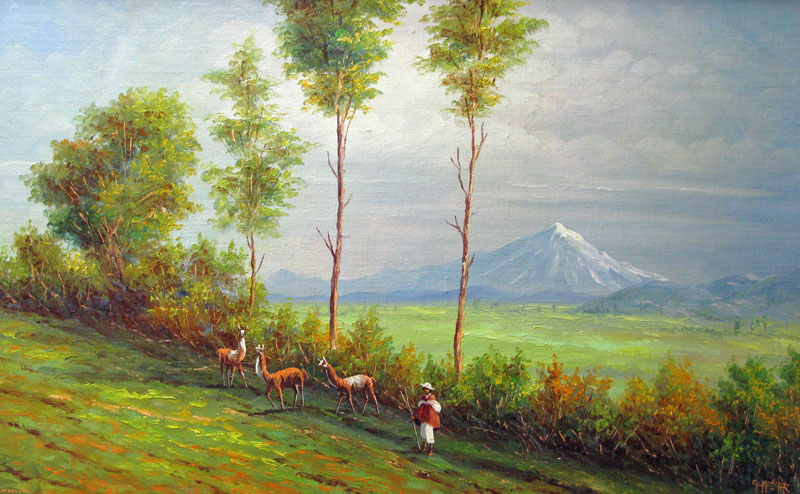 Being the 5th of 7 children, 3 painters, he assimilated the characteristics
of the style from his father and his brothers, although his painting
mostly resembled that of his father, Hector.
In school he was very talented in art and won provincial competitions every
year, which recognition came in the form of diplomas, including once in
4th grade, when he won a Unicef-sponsored International Competition in which
his works were sent to Japan, along with the works of other children from the world over.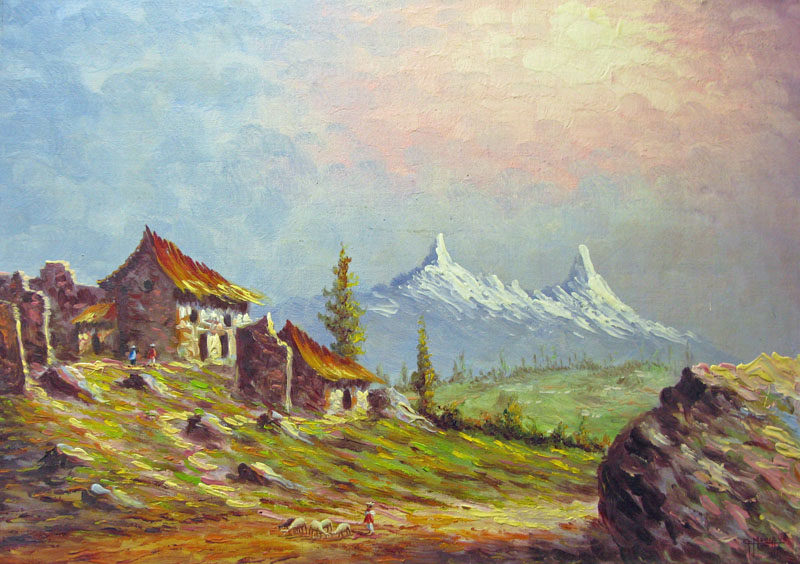 His studies began in his early years in Quito, Ecuador, at Escuela Cuba and he
later attended Escuela Experimental Eloy Alfaro from second through sixth
grade. He continued secondary school in the Instituto Nacional Mejia and in
the Nocturno Quito. By the age of 13, he had already dedicated himself to
painting, and from 16 years of age he was already well on his way to becoming
a professional artist, which soon became his passion as well as his profession.

He started painting bullfighting motifs and later dedicated himself to landscapes.
This is not to say that his exclusive work - on the contrary, the variety of
works realized on his canvasses is quite extensive as he paints portraits,
landscapes, still life, flowers, fruit, colonial scenes, seascapes and beaches, oriental
or tropical jungles, daily life motifs, natives, faces of the elderly, children, etc.,
In the end, he paints whatever the client wishes for him to paint.
Personally, he most enjoys painting horse scenes.

He is self-taught which he learned from his elders, none of them having
studied art. Only his father having enrolled at a very young age in the school
of fine arts, a place where he stayed for about two months and later he left
because he did not learn anything from his teachers (rather his teachers
wanted to keep him painting to watch and learn from him!) While Gustavo
has been asked to teach or apprentice students, he has turned down these
offers, as he doesn't feel it is his calling.

At 22 years of age, he married Sonia Durán, a lovely young lady who captured
his heart, and to this day he has no doubt that this was the woman that God
created for him. They have 4 children: Eduardo Moncayo (33), Elena Moncayo (31),
Freddy Moncayo (29) and Aracely Moncayo (21), all of whom are very talented, but
none have dedicated themselves to painting, but he believes that if they tried it,
they would readily be able to succeed at it.

G. Moncayo has a beautiful grasp of lighting in stormy rainy weather.
Many of his paintings appear so wet and rainy you can almost smell
the fresh dirt and rain when you look at them!

G. Moncayo is especially known for his "Hidden Jesus" paintings.
Whether obscure in the clouds or veiled in the woods, these paintings are
brushed with magical strokes revealing the presence of Jesus
only if you're looking for him.
Like his father Hector, Gustavo enjoys painting religious themes.
Visit Our WebStore For Items Available For Purchase.
All Content and Images Protected by Copyright and to be Used by Permission Only
Moncayo-Art.com ©2015